How popular is my Product on Amazon?
All products listed on Amazon are categorised to aid shoppers as they browse or refine searches for products that meet their needs. Assigning the correct browser node category to your product can significantly affect the visibility of a listing. Regardless, brands want to understand their popularity and whether they're outperforming the competition. Amazon has compounded the competition felt by brands by providing leaderboards for each category to show the Top 200 products in the niche.
Amazon calculates their Best Seller Rankings based on Amazon sales and is updated hourly to reflect recent and historical sales of every item sold on Amazon. So, for example, by looking at the Amazon Best Sellers page for Tea, we can learn that Yorkshire Tea is the number one black tea on Amazon.co.uk and outperforms brands such as Twinings, PG tips and Tetley at this time.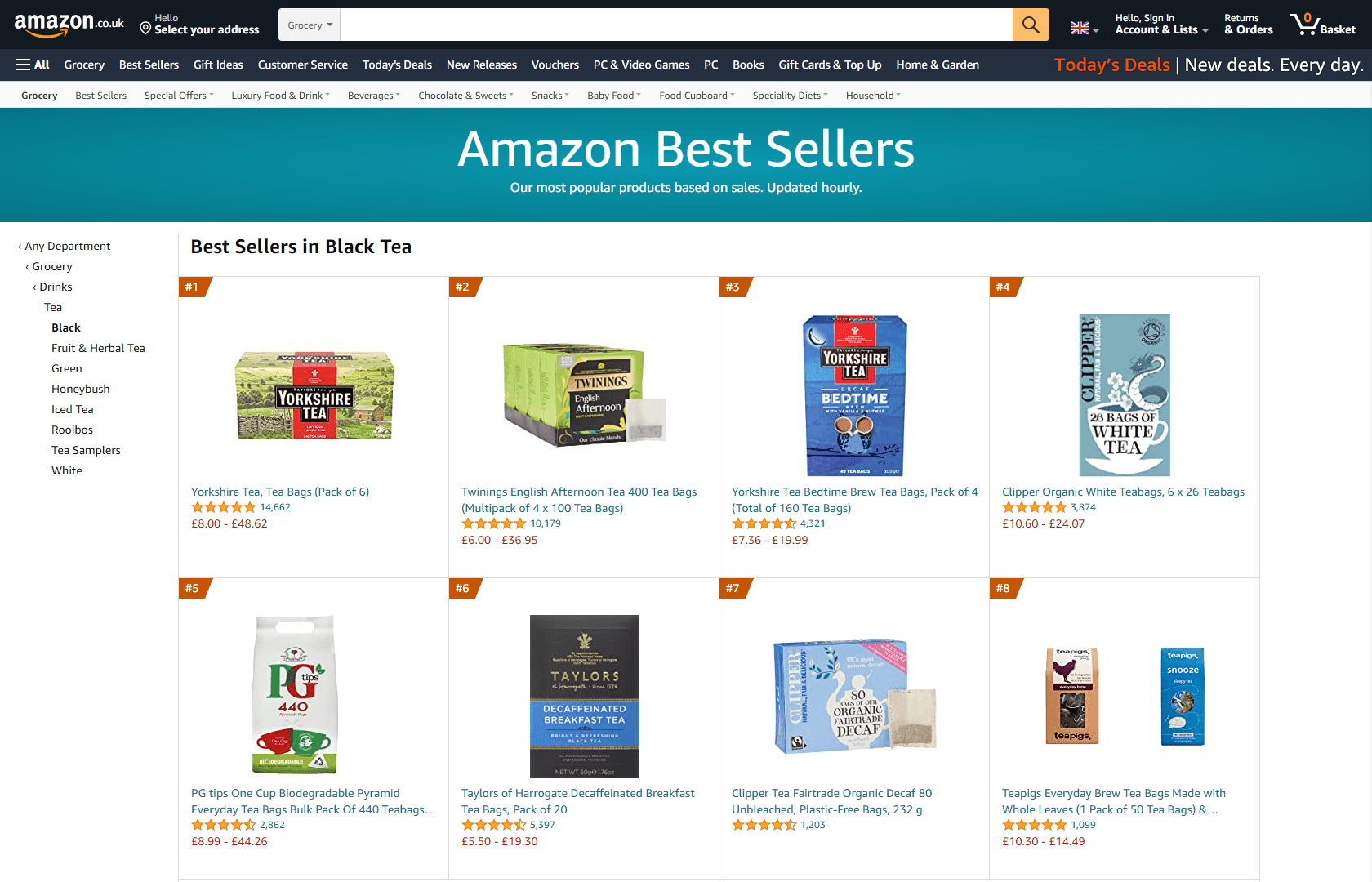 However, how do you know if your product is ranked 201 or 2001? Or how would you track historical performance? Fortunately, along with keeping detailed information about your Products Listings on Amazon, monitoring sales performance, stock levels, and Buy Box ownership, Ignite by Acorn-i also tracks the category rank of your product.
The platform offers two views, Category One and Category Two, in the Sales by Product screen. You can include these rankings in the data grid by updating the selected columns or changing the Product Sales chart's mode. Category One highlights the product's position within departments such as Electronics, Garden & Outdoors, Groceries or Toys & Games, while Category Two focuses on your specific niche.
It's helpful to keep a weather eye on your category rankings because it can answer the following questions:
Is the selected product underperforming or outperforming key competitors in the niche?
Is the category experience season variation?